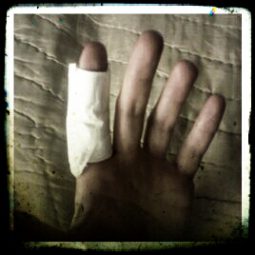 Paul is a screenwriter and director and wannabe beat-boxer.
As a child he spent two years in bed with a bad back reading Smash Hits, memorising pop song lyrics and learning to play the guitar lying down. It was a reflective time, a time where dreams of the future were forged – dreams such as a career in hypnotism and how to become Kim Wilde's boyfriend.
Once mobile again, he took the natural first steps in his bid to become an artist. He returned to school in Uttoxeter with a fake cockney accent and enrolled in an AS level in Contemporary Dance.
After narrowly avoiding being beaten up he was taken aside by his best friend Shane who explained a painful home truth: It is a thin line between being a maverick artistic genius and just some tit that everyone finds annoying.
Astonished by the power and insight of this speech Paul dropped the accent and admitted the secret that he had been harbouring deep in his heart – he didn't like wearing leotards.
With their souls laid bare the two friends were inexorably bound together and a future of creative collaboration was inevitable.
Paul and Shane embarked on a trilogy of films about life in their East Midlands hometown: Twenty Four Seven (1998) A Room for Romeo Brass (1999) and Once Upon a Time in the Midlands (2001).
Other screenwriting credits include Heartlands (Damien O'Donnell, 2002), Somers Town (Shane Meadows, 2008), My Father the Liar, and Tube Tales (Bob Hoskins, 2000) Dead Man's Shoes (Shane Meadows, 2003) and Sheeep – a children's cartoon series (1999, 2000).
As a Director Paul has made several shorts including the award-winning Scummyman (2006), Barney Has The Blues (2005) and Streetlife (2004). Paul directed his first feature film, My Brothers, in 2011.
He has also directed music videos for artists including the Arctic Monkeys, Tired Pony and PlanB. He makes commercials in the UK with Tomboy Films and Jumper Productions in Ireland. He also  edits and advises on scripts, individually and in workshops, in the UK and around the world.
Paul is currently developing scripts with Warp films and Tomboy films and dreaming of a house with a water-slide out of his bedroom window.
"Paul is a genius. He eats too much cheddar and he always smells of biscuits, but there's no other mind quite as broken and brilliant as his." Shane Meadows 2013