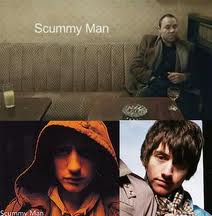 Scummyman
Dir: Paul Fraser
Synopsis: The two central characters are 15-year-old prostitute Nina (played by Lauren Socha) and the vicious pimp George (Stephen Graham). Superb acting grimly but compulsively captures a cycle of dependency, human and narcotic. Set amid deserted warehouses and seedy neon-lit streets, it has harrowing but very real scenes of injection, violence and, occasionally, glimpses of humour and lives long since left behind.
In fact, the problem with Scummy Man is that there isn't enough of it. When a benevolent taxi driver (Rowe David McClelland) offers a ray of hope (or is it another false dawn?), what began as a pop short starts to look like the beginning of a full-length drama.
This unusual short film includes more than just the video for When the Sun Goes Down. Two similar episode-like clips delve deeper into the single's imagery, based on the real-life twilight zone around the Monkeys' rehearsal rooms in Neepsend, Sheffield.