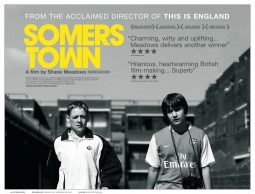 Somers Town
Dir: Shane Meadows
Click here to watch the trailer
Synopsis: Somers Town follows two teenage boys Tomo and Marek, adrift in an adult world, who develop a mutual trust and acceptance through an unlikely friendship. Tomo runs away to London from a lonely, difficult life in the Midlands. Through a chance encounter he meets Marek, a Polish immigrant living with his father in Somers Town, central London. Unknown to his father, Marek begins hiding Tomo in his flat and the two boys go on little adventures, stealing clothes from a laundry mat and earning money from an eccentric neighbour, Graham while sharing a growing obsession for Maria, the French waitress at their local café.
Somers Town is directed by BAFTA award-winning Shane Meadows and stars Thomas Turgoose (This is England), Kate Dickie (Red Road), Perry Benson (Scrum, Sid & Nancy), Elisa Lasowski (Eastern Promises), with debut English film performances by Piotr Jagiello and Ireneusz Czop. Somers Town is produced by Barnaby Spurrier and written by Paul Fraser and has original music composed and performed by Gavin Clarke.
"A total joy. The best British film of the year."**** DAILY MIRROR

 "Charming, witty and uplifting. Meadows delivers another winner." ***** NEW!
"Hilarious, heartwarming British film-making…superb" **** NEWS OF THE WORLD